HDFC Fastag Application Form PDF
HDFC FASTag is an electronic toll collection system in India, operated by the National Highway Authority of India (NHAI). It employs Radio Frequency Identification (RFID) technology for making toll payments directly from the prepaid or savings account linked to it or directly toll owner. It is affixed on the windscreen of the vehicle and enables it to drive through toll plazas without stopping for transactions.
HDFC Fastag Form – Online Procedure
Here is the below complete procedure for the online applying Fastag Application form
Step1: To apply new HDFC Fastag applicants must visit the HDFC Bank official website i.e. https://v1.hdfcbank.com/, or they can directly click on this link.
Step 2: After that, you have to click on the "Apply Now" link as the image is shown below.
Step 3: After clicking on that link a new window is open in which you have to select whether you have a saving account with the HDFC Bank or not, then you have to select Fastag to apply for "Commercial or Personal Vehicle, then you have to enter your personal details after that click on "Agree" button and then click on "Next button as an image is shown below.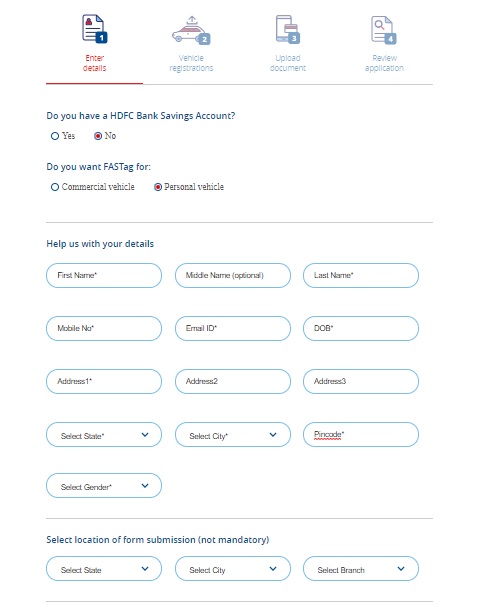 Step 3: After that, you have entered the Vehicle details and upload the necessary documents. After upload documents, you can review the application form and then click on the "Submit" button.
HDFC Fastag Form – Documents Required
Registration certificate (RC) of the vehicle,
Passport-size photo of the owner,
KYC documents according to the category of the vehicle owner (individual/corporate),
Identification document (PAN Card, Passport, Voter ID Card) and Aadhaar Card with the address.
For more details visit the Bank's official website – https://v1.hdfcbank.com/