The Farmers Bill 2020 (Produce Trade & Commerce)
The Farmers Bill 2020 (Produce Trade & Commerce) PDF read online or download for free from the prsindia.org link given at the bottom of this article.
Key Features of Farmers Bill 2020 (Produce Trade & Commerce)
Trade of farmers' produce: The Ordinance allows intra-state and inter-state trade of farmers' produce outside: (i) the physical premises of market yards run by market committees formed under the state APMC Acts and (ii) other markets notified under the state APMC Acts.  Such trade can be conducted in an 'outside trade area', i.e., any place of production, collection, and aggregation of farmers' produce including (i) farm gates, (ii) factory premises, (iii) warehouses, (iv) silos, and (v) cold storages.
Electronic trading: The Ordinance permits the electronic trading of scheduled farmers' produce (agricultural produce regulated under any state APMC Act) in the specified trade area.  An electronic trading and transaction platform may be set up to facilitate the direct and online buying and selling of such products through electronic devices and the internet.  The following entities may establish and operate such platforms: (i) companies, partnership firms, or registered societies, having permanent account number under the Income Tax Act, 1961 or any other document notified by the central government, and (ii) a farmer producer organization or agricultural cooperative society.
Market fee abolished: The Ordinance prohibits state governments from levying any market fee, cess, or levy on farmers, traders, and electronic trading platforms for a trade of farmers' produce conducted in an 'outside trade area'.
Main provisions –
The new legislation will create an ecosystem where the farmers and traders will enjoy the freedom of choice of sale and purchase of agri-produce.
It will also promote barrier-free inter-state and intra-state trade and commerce outside the physical premises of markets notified under State Agricultural Produce Marketing legislations.
The farmers will not be charged any cess or levy for sale of their products and will not have to bear transport costs.
The Bill also proposes electronic trading in the transaction platform for ensuring a seamless trade electronically.
In addition to mandis, freedom to do trading at farmgate, cold storage, warehouse, processing units, etc.
Farmers will be able to engage in direct marketing thereby eliminating intermediaries resulting in full realization of price.
Doubts –
Procurement at Minimum Support Price will stop
If farm produce is sold outside APMC mandis, these will stop functioning
What will be the future of government electronic trading portal like e-NAM
Clarification –
Procurement at Minimum Support Price will continue, farmers can sell their produce at MSP rates, the MSP for Rabi season will be announced next week
Mandis will not stop functioning, trading will continue here as before. Under the new system, farmers will have the option to sell their produce at other places in addition to the mandis
The e-NAM trading system will also continue in the mandis
Trading in farm produce will increase on electronic platforms. It will result in greater transparency and time saving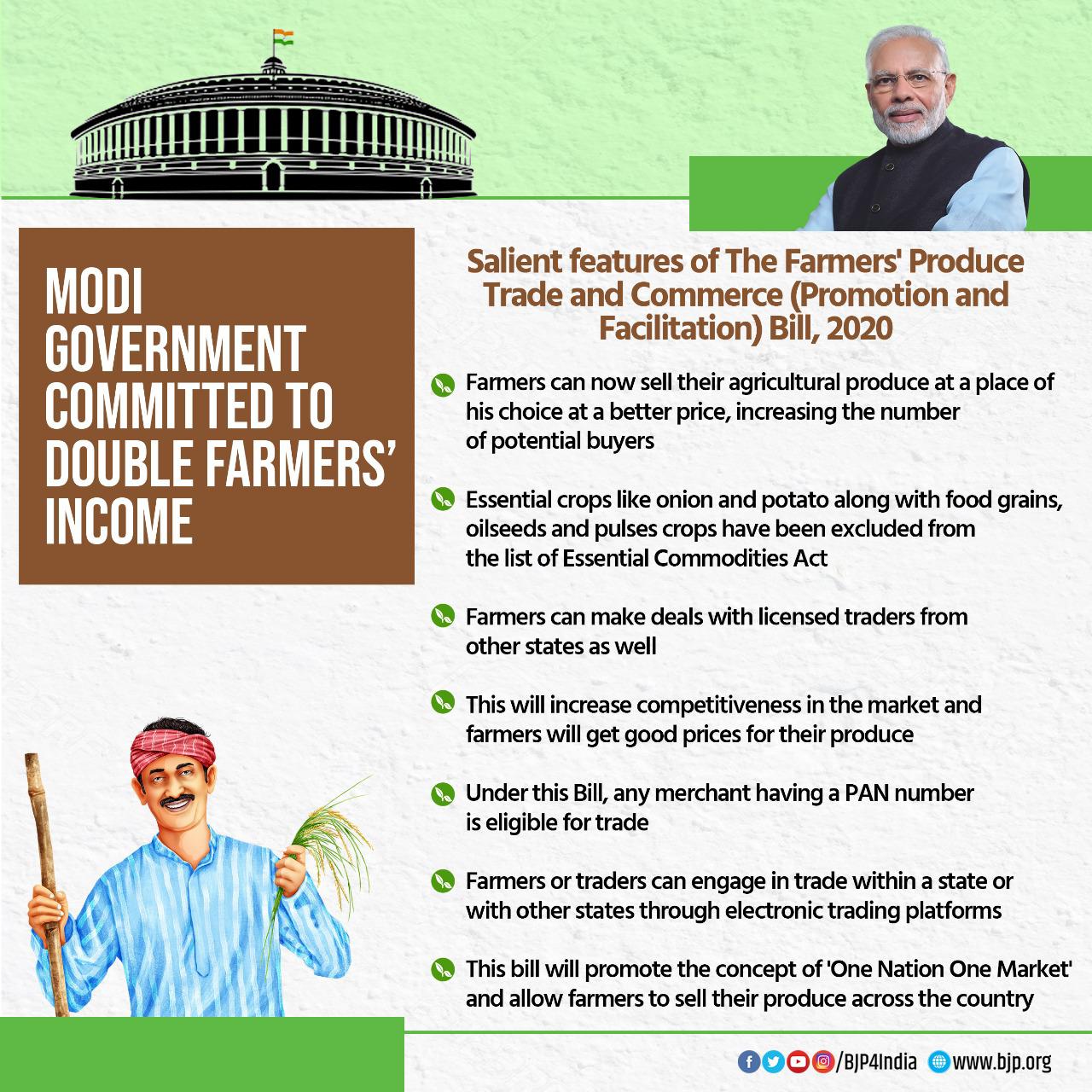 For more details download The Farmers Bill 2020 (Produce Trade & Commerce) in PDF format using the link given below or alternative link.
Also, Check 
Farmers Bill 2020 (Empowerment & Protection)
The Farmers Bill 2020 (Produce Trade & Commerce) Hindi
Rabi Crop Minimum Support Prices (MSP) List 2021-22
Farmers Bill 2020 (Produce Trade & Commerce) Brief Summary